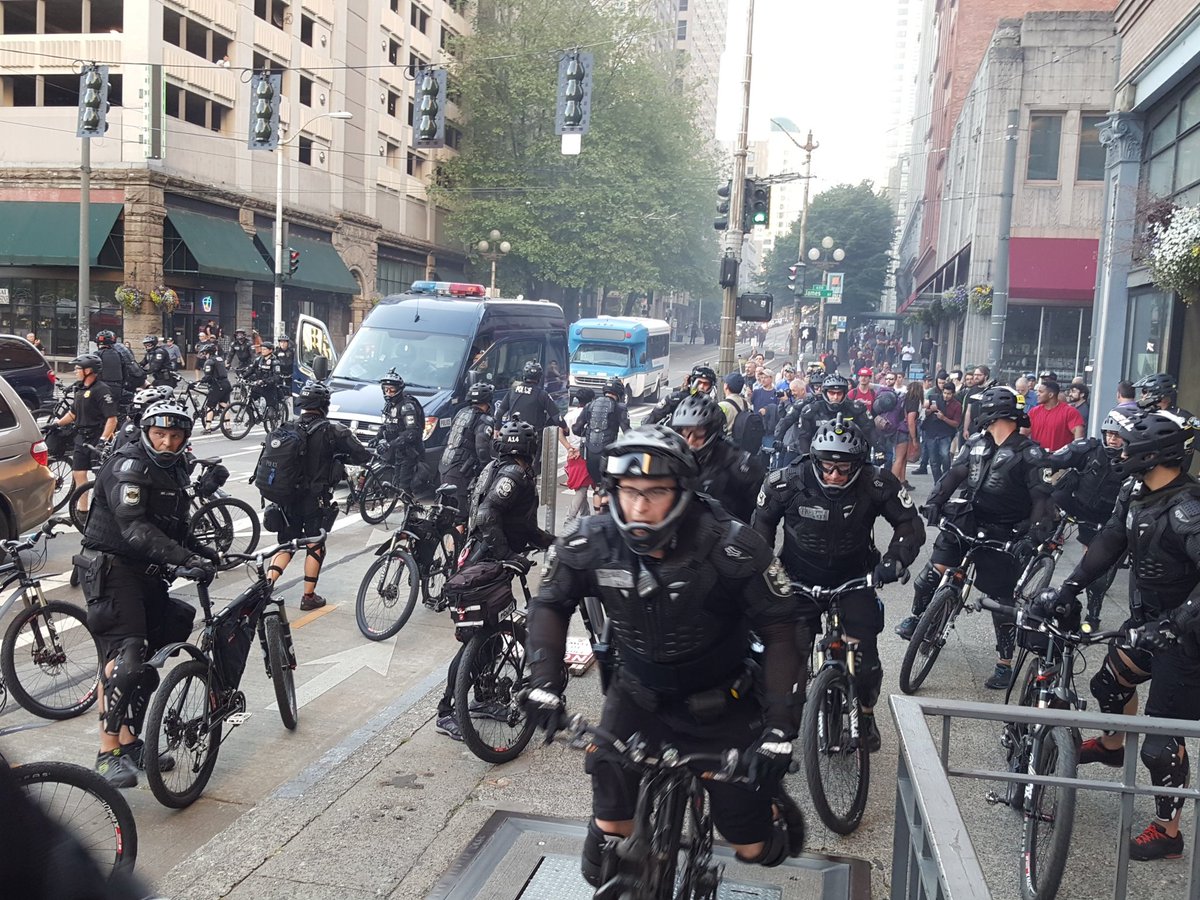 Police in the U.S. city of Seattle are clashing with protesters at this year's May Day rally and have begun making arrests.
More than 90 countries across the globe are holding mass rallies and activities this Sunday, May 1, to commemorate International Workers' Day, a celebration of workers' rights achieved and a demand for fair working conditions and wages today—and around the world, from Seattle to Istanbul, police cracked down on those who took part.
In Turkey on early Sunday demonstrators were met with tear gas and water cannons as clashes broke out with police officers, leaving at least one dead.
In Moscow, thousands gathered to march across the famous Red Square in a rally called for by the United Russia party, as demonstrators waved Russian flags and balloons.
While in Latin America, in the early Sunday morning hours, hundreds of thousands of Cubans came out for a May Day parade through Havana's Revolution Square, with workers were wearing red shirts as Cuban flags fluttered in the wind.
Other countries participating in demonstrations include Brazil, Paraguay, Mexico,the Philippines, France, Germany, South Africa, and Korea.
May 1 was chosen as the day to celebrate workers' rights 127 years ago by a coalition of pro-labor parties within the socialist Second International. It is not formally recognized in the United States, where the government instead celebrates "Loyalty Day." That despite the fact that May Day  intention is intended to commemorate the Haymarket affair, when a bomb detonated near Chicago's Haymarket Square in 1886 after police arrived to break up a rally organized in support of workers striking for an eight-hour workday.
Members of the boisterous crowd carried a large blow-up doll of Trump holding a Ku Klux Klan hood and signs that read: "Dump Trump."
Hundreds of people marched through Los Angeles on Sunday in May Day rallies that took aim at Republican presidential front-runner Donald Trump and his vow to build a wall along the U.S. border with Mexico.
Three separate marches were held in Los Angeles on Sunday, beginning around noon, with several hundred people championing a variety of causes but especially immigrant and worker rights. More than a third of Los Angeles residents speak Spanish, second only to Miami among major U.S. cities.
At one of the rallies, a boisterous crowd carried a large blow-up doll of Trump holding a Ku Klux Klan hood with signs that read: "Dump Trump."
The rallies in a city with a large immigrant population come just days after protesters smashed the window of a police car and blocked traffic in chaotic scenes outside a Trump campaign event in Costa Mesa, California, 40 miles (64 kms) southeast of Los Angeles.